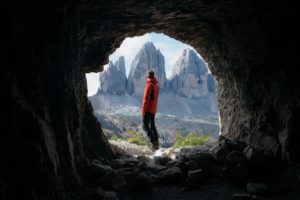 We all know the power of messages, the drama that beautifully crafted words can bring to telling a story. This idea of storytelling through a consistent brand message is so powerful that sometimes we forget the other key component to messaging – the visual.
So, what makes up a great visual message? Well, what we're really talking about here are photographs, drawings, logos and artistic elements that add to your story and brand.
We've all heard the old cliché that "every picture tells a story," or that "a picture is worth a thousand words." Well cliché or not, the veracity of these ideas holds true, especially in the social media age, where images make powerful statements on their own.
I don't have to tell you, for example, how easily we recognize images like the Nike swoosh, the Amazon smile or the Detroit Red Wings wheel. When it comes to photography, there are images that we immediately think of – the end of World War II kiss on a street in New York, the raising of the U.S. flag on Iwo Jima or the Challenger shuttle exploding in space.
Clearly, photography is an effective storytelling approach, but it requires a number of key considerations.
First, decide how the images will connect with a brand and tell a story in a manner similar to written messages. There are plenty of easy photo solutions, but it is best to truly think about how we want to portray our company and team in the eyes of the world.
Second, be consistent on how and where we use images. A powerful image on a website could easily make just as strong a statement on Facebook or LinkedIn. If portraits of our team are important, they need to be the same across all visual platforms, such as social media, website and digital marketing campaigns, and printed brochures.
Third, when hiring a professional photographer, share your brand components: the written messages, the key phrases and the use of color and fonts that make up your story. Then make sure the photographer understands what you are trying to achieve with the photos. In other words, explain the brand and how you hope to use the images.
Finally, update visuals on a regular basis. It's likely that your brand messaging may have a fairly long shelf life. Other than portraits, many brand visuals can be updated on a frequent basis allowing you to keep your visual appeal fresh while still maintaining the brand and telling your story in a consistent way that is easy for anyone to understand.
Yes, every picture tells a story. It just requires a thoughtful approach that is no different than other storytelling methods – brand messages, core principles, mission and the cultural values that define a company.