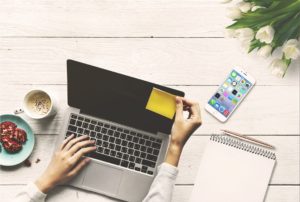 I have a client who talks a lot about how working in the 21st Century is different from what we've done before. This point recently hit home when I worked on a magazine story about using technology to 'take the office with you.'
I talked to a variety of entrepreneurs and business people who are all using technology in different ways to work. The fact is, business now can be conducted almost anywhere, thanks to the Internet, e-mail, cell phones and laptops.
A decade or more ago, working from home using technology was called telecommuting or telework. Back then, it was new. Today, it's just another way to do business. For example, the U.S. Patent and Trademark Office now has 13 telecommuting programs, with about 220 trademark examiners and 600 patent examiners teleworking in the two largest programs (US agency: Telecommuting offers many advantages, PC World).
The number of Americans working at home three or more days a week grew nearly 23 percent, from 3.4 million in 1990 to 4.2 million in 2000, according to U.S. Census figures. The estimated number of Americans who telecommute at least some portion of the week jumped more than 42 percent in two years, from 19.6 million in 1999 to 28 million in 2001, according to the International Telework Association and Council.
Everywhere you look it seems people are spending less time in the office and more time working in the place and time that works for them. One person I interviewed for my story relies on his cell phone with a wireless connection to manage all his e-mails and appointments. He spends a lot time on the road, so text messaging is crucial to communicating to his supervisor and co-workers.
I also interviewed a couple who is running an e-business from their home. Their retail business exists only within the confines of the Internet, so they don't have to drive to open a store, staff it, etc. They love the flexibility and what's more, because they are not limited by floor space, they can keep growing and growing.
Flexibility, growth, freedom from space limitations – from my perspective, that's what working in the 21st Century is about. With things changing so quickly, I wonder: how people will use technology to work five years from now?
– Sue Voyles