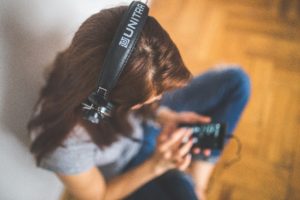 Is the talk of the upcoming 2020 presidential election already making you shudder when you look at your social media channels? Is tuning out is the answer? Maybe that's a good option for the current political cycle, but I think there's too much tuning out on other fronts.
Consider how many of us are tuning out (myself included):
How many of us take cell phones into meetings and monitor them for text messages, emails, Facebook posts – instead of paying attention to the business at hand?
How often do we drive our car while listening to music, talking on our phones (hands-free of course), drinking coffee or checking our hair in the rearview mirror (while stopped at a light) – instead of being focused entirely on driving and maybe even enjoying the scenery if we're headed to a vacation destination?
How much time do we spend on our phone while watching TV, walking, exercising, cooking, cleaning, or sitting at a restaurant with a group of friends – instead of paying attention to the task we're doing?
What are we losing by tuning out? We may be losing opportunities for relationships (business or otherwise), preventing memories by not fully enjoying experiences, or missing critical information we need to do our jobs better or enhance our life. (And I might add, maybe we can cope during the next political cycle by NOT tuning out and instead becoming fully informed and engaged citizens.)
Let's tune in instead to our coworkers, colleagues, vendors, friends and family – our lives will be better for it.
– Sue Voyles