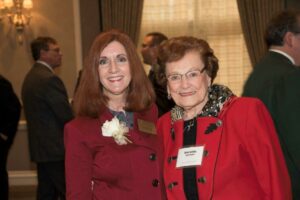 Dorothy Zehnder, co-founder of the Frankenmuth Bavarian Inn Restaurant will celebrate her 95th birthday on December 1, 2016. And she still works full time. Dorothy says, "I like working. I like to cook, and I like people."
I've had the pleasure of working with Dorothy and her family over the last several years. And I've learned some great lessons along the way. So in tribute to Dorothy and her tireless work ethic, I'd like to share some things I've learned:
Have fun at work. At 91 years young, Dorothy was seen doing the Harlem Shake with her co-workers in the Bavarian Inn Restaurant kitchen – see it HERE. Now that's what I call having fun at work!
Family is important. Dorothy's children and their spouses, along with her grandchildren – a total of nine family members – work alongside her every day. She values families – her own and those of the tens of thousands of guests who have visited the Bavarian Inn for more than 60 years.
Tackle the tough problems at work with gusto. Back in 1950, when Dorothy and husband Tiny Zehnder took on management of the restaurant (it was called Fischer's Hotel back then), they were serving about 50 people a day. Today, the restaurant serves thousands of people a day in 12 dining rooms. The reason? Dorothy had to tackle a tough job — taking recipes created for five and morphing them into feeding 50 or 500 people.
Mentor people. Dorothy has trained thousands of restaurant team members throughout her long career. Many have no experience. She enjoys working side by side with them and if they make a mistake, she will help them learn from it by showing them the correct way.
I hope that these lessons –and others from Dorothy – will stick with me for a long time.
–Sue Voyles