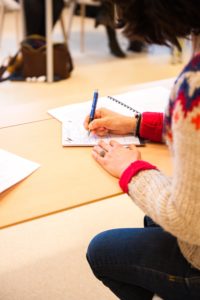 Of course, the writer in me had to take notes. Take notes where, you may ask? At the first annual Summit of the Goldman Sachs 10,000 Small Businesses Program Alumni in Washington DC in February. (You may recall that I wrote that the whole experience felt like "Disney for business.")
So here are some words of wisdom from the various sessions. I hope they inspire, inform and incite you to take action in your business.
From Lisa Price (Carol's Daughter), Jo Malone (Jo Loves), and Melanie Wilson (SoulCycle):
Starting a business is like jumping off of a mountain.
There is such a thing as an Oprah moment or effect.
When you're the founder of the company, you can't focus on the minutia all the time.
When you hit your first million, pour a glass of champagne and pat yourself on the back.
Referrals and word-of-mouth are how we grow.
The only one who can tell your story with integrity and passion is you.
From Sarah Blakely (SPANX):
Why are you doing what you're doing… It's important to stay connected to the why.
I'm a big believer in having fun.
Be as close to your consumer as you can. I'm lucky because I am my consumer.
If no one showed you your job, how would you be doing it?
As soon as you can afford to, hire your weaknesses.
From Michael Bloomberg (Bloomberg LP and Bloomberg Philanthropies):
People are what make businesses.
Listen to your customers, pick up the phone and call them. People want you to talk to them.
Make your customers happier.
People want to succeed in America.
Small businesses are really the backbone of our country.
The next big businesses are the small businesses of today.
Like these? Check out Words of Wisdom: What Tyler Perry, Richard Branson and Warren Buffet Said to read more.
—Sue Voyles