How does a Public Relations firm work?
At the heart of many public relations (PR) firms is what I call a "program" where the new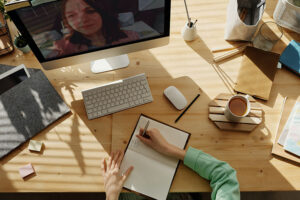 client is placed into a certain approach dictated by the PR company itself and not necessarily designed to fit their needs.
It often leads to people asking me: how does a PR firm work?
It starts with us listening to you. We want to find the approach that works best for you. So no, we don't put you in a "program" or try to squeeze you into a formula: a certain number of press releases, "X" number of social media posts, so many blogs or a logo refresh.
That's not how we work.
We believe your communications ought to reflect the business decisions you've made to get where you are, along with the business conditions and industry where you provide products or services.
What's the best way to communicate?
Is it a news release, a LinkedIn post, a tweet, a YouTube video or blog? We help you make informed decisions.
What about your website? Is it mobile-friendly? Do you need e-commerce? What about updates to content? Sometimes it's little things, sometimes it's big ones. But always, it's anticipating the needs of your target audience and exceeding them. We can help you do that.
Your success is the goal of our PR firm
We'll work with you to help meet your communications objectives in a cost-effective way.
What sets us apart? Our commitment to work with each client to design an integrated communications approach that makes sense for you. We believe there's no substitute for great customer service, quality and integrity.
From projects to retainers
What works best for you? Project based work; a retainer?
In many cases our clients put us on a monthly retainer that includes blog posts, social media management, press releases, and perhaps even a photography session or graphic design.
We work very well in the project-based environment, where you hire Logos Communications firm for something specific, perhaps a grand opening or merger. Oftentimes, we are hired to plan a campaign, create a logo, develop an e-newsletter template, or manage social media platforms.
Additionally, we are often hired to assist a company's already over-taxed marketing or communications team. Sometimes we are even brought on to help non-communications departments who have their own special communications needs. For example, an executive manager trying to revamp the culture of his or her company or an HR department struggling to effectively communicate to all employees and through multiple channels.
There are endless single project approaches we can use, and obviously each one requires a unique approach that is thoughtful and thorough.
Partners to the industry
We work with many partners in the communications industry, assisting them with projects they are unable to handle alone or where they lack expertise. This can writing for websites, supporting special events and more.
Whether your company thinks it needs PR or not (it does, by the way), we can offer insights, strategy, planning, tactical work, analytics help or just simply bring your long overdue communications project to fruition.
How do PR firms work? At Logos Communications we work with you, and for you, not for our own stature in the PR world or simply for our own bottom line. Just ask our clients. If you want to know more about how our PR firm works simply reach out to me on LinkedIn or complete our contact form. I have no doubt you will be surprised just how easy it is to enter the world of things like social media, branding, public relations and marketing.