Why professional peer groups really matter
Being a part of an professional group is critically important in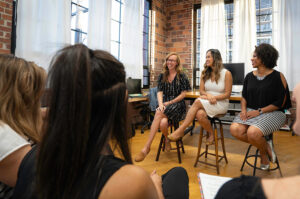 these days of intense competition for time, talent, resources and money throughout all industries. Business leaders lead best when they are out front and stay focused on being informed, growing their company and ensuring they are well recognized.
An excellent way to lead in your industry is by being involved. That's more than just reading industry journals or watching what's going on in your industry or community. It's about meeting yours peers, learning together and even having a chance to socialize and get to know one another.
Far too often in this hectic world we feel too busy to get involved in a professional peer group. They also seem kind of old-fashioned when we consider that information is readily available in so many different forms already that finding help from industry peers isn't always front of mind.
There are plenty of powerful reasons why joining a professional organization, and getting involved in that group or association, still makes a lot of sense.
It's really about you and your goals, and what it is you want to do with your career. Trying to get ahead is one thing, but making an impact in your industry often means much more than just making a lot of money or having a fancy title or corner office.
These organizations exist in every industry and they are there to assist professionals looking for ways to connect, learn, keep a business on the right path for a strong future and bring together information and resources in an easy-to-access way.
Being in a professional organization offers a number of important benefits. It's a way to connect and network, it offers you and your company exposure, it helps you stay up-to-date on issues and ideas and it is a great source of credibility for both you and your company. Let's review these a bit more closely.
Connecting with peers
Let's face it: since the pandemic, networking has changed and evolved. Yes, we have finally gotten back to more face-to-face events and activities, but it remains hard to overcome worries about health or even see the value in getting to meet other people in person.
With technology and other tools for remote connecting, it seems our business world is more remote than ever. We work from home or stay in our office. We do everything by email, text, phone or zoom call. When we meet with peers, it's often just online.
Most professional groups gather on a regular basis, offering seminars, webinars, social outings, conferences and peer or mentor training. These are all great networking opportunities and taking advantage of these kind of activities helps ramp up your involvement. Sure, it's great to join a group and say you are a part of a professional affiliation. It's another thing to get involved, become connected and even take a leadership role.
Of course, you don't have to attend every event, but there's certainly no harm in that. Usually these activities are free to group members and are at the heart of why a professional association makes sense. There are abundant resources out there in your fellow peers, and there's plenty of chance to network, to share who you are and what you do in the business.
As we all know, networking can lead to referrals in a wide variety of shapes and sizes. Networking can also enlighten us about what other people are doing to deal with problems or challenges you might all be facing in your field.
It's one thing to work and live remote, but by our nature we are designed to have relationships with others, and being in a group allows us to tie together that idea with our career path and work interests.
Getting noticed by professional peers
A networking group is one aspect of being a part of a professional organization. It's in these groups that you and your company can also gain exposure and industry credibility.
While it's nice to list professional groups on a resume, and they certainly help when we are talking with prospective employers, there's a bigger idea here. Being in a group or two also shows others that you have a level of professional understanding and even authority in your industry, and that you a person who is engaged and always seeking to learn and grow as a professional.
But it takes more than just joining. Utilize the association or group to connect, as we already discussed, but also enhance your credibility by taking part and being active. Perhaps join the group's board or be part of a committee or even help organize events and activities for your peers.
All of these things show you are someone who cares, who wants to grow in professional skill and stature and who realizes a career is not some remote idea but an active lifestyle that brings you into contact with others, adds to your personal skill set and allows you to take part in shaping the future of your business.
Many professional groups also offer various awards and recognition programs. In the PR business, for example, both the Association for Women in Communications (AWC) and Public Relations Society of America (PRSA) host annual award programs. These are national awards recognizing men and women from across the country contributing to the PR industry.
Clearly, it's not about winning awards for the sake of it. Awards in themselves, however, validate what you do, recognize your work or what you do for clients, customers and even staff.  In other words, while it is about you and what you do professionally, it speaks more directly to personal involvement, a desire to share knowledge and information as much as it is about recognition.
Still, being recognized by your peers is a powerful reason enough to be involved in a professional group. Who after all doesn't like being noticed for hard work and great effort?
It also offers local, regional and even national exposure for you and your company.
People and program resources
Finally, professional groups are often excellent clearinghouses for information and industry knowledge. These resources come from the group or association itself but even better they come from your peers.
Learning from longtime pros in your business is a natural way to experience the idea of mentorship, gaining insight from those who have made it to the top or offer unique insights and observations about your business.
Again, we so often these days feel remote and cut off from what's going on around us, that we miss out on simple forms of connecting and deeper ideas of professional advancement that might be right in front of us.
So, join a group and take part in any of the learning sessions they might offer, the white papers or blogs shared by members, the experiences of the group's leaders and any certification programs available.
Ultimately, the greatest resource of any good professional group is the other members. By joining and getting involved you can connect with others from many varied backgrounds. It's an ideal way to expand your professional understanding but also gain cultural and societal insights from others who may be facing similar challenges but come from a different perspective.
Sadly many groups are struggling to gain new members, let alone hold onto their professional core. As new generations of business leaders come to the forefront, it is important to share the value of industry groups even if trends and times are changing and people engage less and less with their peers.
Many of our clients have learned these lesson and are deeply involved. Recently one of our clients was showcased at a regional conference. Their staff was recognized and it was a great opportunity to share what they did for their own clients.
You can experience that as well. Professional groups are a perfect way to be involved, to be recognized and to garner authority in your industry.