PR people are many things — in the past I've compared us to athletes, cheerleaders, and superheroes. But what about matchmakers?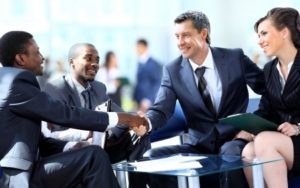 That may seem like an odd comparison to make, but consider what we do in our jobs. One of the greatest satisfactions I get comes from connecting clients to each other — which is matchmaking of sorts. Throughout my career, I've had the pleasure of bringing together clients who can complement each other's strengths and build each other's businesses in a mutually beneficial way. I've introduced clients who went on to do business together for several years.
So, potential matchmakers may wonder, how do I find the perfect pairs to introduce to each other?
For me, matchmaking starts with listening. I listen to what my clients are saying, and then I ask myself: What business need is the client looking to meet that I can help with? Who do I know that this client should meet for a mutually beneficial business relationship?
Most importantly, I ask: How can I succeed in helping this client where someone else has failed before?
Some PR folks may disagree with me, but I think that matchmaking is one of the most important parts of what I do. It reaps many benefits now and in the future.
By "playing matchmaker" with my clients, I prove to them that I really care about their success, outside of what I can do for them. It helps to make Logos Communications more memorable, and builds up that all-important personal connection that helps to ensure a long-lasting relationship.
And the truth is, I just think it makes sense from a business perspective to help my clients be as successful as possible. After all, celebrating success is one of the things that PR does the best.
–Sue Voyles